Although we haven't had a ton of options for our list of the best Intel processors over the past few years, that changed with the arrival of the 12th-generation Alder Lake platform. Intel is back on top in gaming and productivity, with a range of new chips that massively improve on the previous generation while outperforming the AMD competition.
The Core i5-12600K tops the list thanks to its aggressive price and high performance. It's the best CPU you can buy right now, not just the best Intel CPU. With 10 cores available, it has plenty of room for productivity work, and the performance cores offer enough juice to outpace the competition in games.
Intel Core i5-12600K
The best Intel processor
Pros
Fantastic price-to-performance ratio
Great gaming capabilities
Hybrid architecture makes it a solid multitasker
Cons
It's not the most powerful Intel CPU
Why you should buy this: It's the best Intel processor on the market right now.
Who it's for: Gamers who need a little extra bandwidth.
What we thought of the Intel Core i5-12600k:
The Core i5-12600K is the best CPU you can buy right now. It's not just the best Intel processor or the best gaming processor, but the best processor overall. It comes packed with 10 cores for around $300, with six performance cores and four efficiency cores. The performance cores shred through games, while the extra efficient cores provide some extra bandwidth for more demanding workloads.
The single-core improvements with Intel's 12th-gen processors shine with the Core i5-12600K. In games, it can outpace even the Ryzen 9 5950X in some cases — and that processor is nearly three times as expensive. Overall, it manages to top the gaming charts, only playing second fiddle to the more expensive processors from Intel's 12th-gen lineup.
It also benefits from the hybrid 12th-gen architecture. This class of CPU is usually best for pure gaming. For gaming and streaming, we usually recommend bumping up a step. That's not the case with the Core i5-12600K. The 10 cores provide plenty of bandwidth for gaming and streaming, which is something we rarely see on a $300 processor.
Intel Core i5-12600K
The best Intel processor
Intel Core i5-11600K
The best previous-gen Intel processor
Pros
Performs well for a mid-range CPU
Can handle most gaming tasks
Cheaper than the latest CPUs
Cons
It's previous-gen, so current processors outperform it
Why you should buy this: It's still a solid midrange CPU, and you can usually find it on sale.
Who it's for: Gamers looking for a deal.
What we thought of the Intel Core i5-11600K:
Intel's 11th-gen Rocket Lake platform isn't perfect, but the Core i5-11600K is still a decent option. It's worse than the Core i5-12600K by a long shot, but you might be able to snag a chip for cheap — which will open up a little more budget for one of the best graphics cards.
It depends on the game, but the 11600K maintains a small but measurable lead over the 10600K in most titles. In some games, such as Death Stranding, the 11600K actually beats the 10700K and can match the 10900K in others. Although not quite the generational improvement Intel fans hoped for, the 11600K proves that you don't need a high-end processor for gaming.
The gen-on-gen improvements are clearer in non-gaming tasks. The 11600K blows past Intel's last-gen offerings and offers more credible competition to AMD's mid-range chips in productivity tasks, leveraging application-specific accelerators to great effect. Single-core performance is up, too, without a big trade-off in multi-core performance.
The 11600K is a great gaming processor. It comes with enough juice for gaming while offering decent power for productivity tasks, and that combination is tough to find under $300. That said, the 12600K is a better option overall, so only go with the 11600K if you can find it at a steep discount.
Intel Core i5-11600K
The best previous-gen Intel processor
Intel Core i5-10400F
The best budget Intel processor
Pros
Highly affordable
Suited for non-demanding gamers
Adequate for productivity and multitasking
Cons
It requires a discrete graphics card
It's not a very powerful CPU
Why you should buy this: It's still a decent performer in 2022, and it's a great budget option.
Who it's for: PC builders on a tight budget that only need a few cores.
What we thought of the Intel Core i5-10400F:
Despite not sporting the Core i3 tag, the 10400F is one of Intel's cheaper processors. It's an incredible value at around $150, packing in six cores and 12 threads, a base clock of 2.9GHz, and a boost clock of 4.3GHz. It's around $80 cheaper than the 10600K while sporting similar specs. The biggest difference is the "F" suffix, meaning that the 10400F does not have integrated graphics and will require a discrete graphics card.
Even with the low price, the 10400F performs well. In tasks like rendering, the 10400F is able to match the 9700K while surpassing AMD's budget Ryzen 3000 chips. Although the 10400F is underpowered for most CPU-intensive workloads, it's still a great Intel processor for web browsing, light image editing, and office applications.
If you're a gamer, the 10400F is an even better choice. With plenty of cores and a solid boost clock, the 10400F can put CPUs three times its price to shame. If you pair it with a nice graphics card, you can achieve gaming performance on par with an i7, and sometimes even an i9.
The 10400F marks a sweet spot in Intel's range. Below it, performance drops significantly without much cost savings, and above it, price scales faster than performance. If you're looking for an everyday CPU with enough power for light productivity and gaming, it's hard to beat the 10400F.
If you can afford it, a viable alternative is the next-generation 11400F. It is slightly faster, but it's more expensive than this model.
Intel Core i5-10400F
The best budget Intel processor
Intel Core i9-12900K
The best high-end Intel processor
Pros
Outpaces the Ryzen 9 5950X in most workloads
Significantly cheaper than the Ryzen 9 5950X
DDR5 support
Solid overclocking headroom
PCIe 5.0 on supported motherboards
Cons
High power demands
Runs a little hot
Why you should buy this: It's the most powerful Intel processor you can buy right now.
Who it's for: Anyone who needs the best of the best.
What we thought of the Intel Core i9-12900K:
Intel's flagships haven't been impressive over the past couple of generations, but the Core i9-12900K changes that. It's the flagship of flagships, sporting 16 cores and single-core boost speeds of up to 5.2GHz. It blows past everything else on the market, making it a great choice for gaming, content creation, and everything in between.
Our testing shows that the Core i9-12900K can outperform AMD's competing Ryzen 9 5950X by as much as 30% in some cases. And keep in mind that the Ryzen 9 5950X is anywhere from $100 to $200 more expensive. It holds a solid lead in gaming, but the Core i9-12900K really shines in content creation workloads, where it's much faster than the competition.
It's power-hungry, but most Intel chips are these days. The Core i9-12900K is a clear showcase of Alder Lake's hybrid architecture and what it can do for PCs, offering up a high core count and plenty of bandwidth for multitasking.
Intel Core i9-12900K
The best high-end Intel processor
Intel Core i9-12900KS
The fastest Intel processor
Pros
Best performance on the market
Can breeze through any task and game
Will last you for years
Why you should buy this: It offers the greatest performance of any processor on the current market.
Who's it for: Users who want the best of the best with no regard for cost-effectiveness.
What we thought of the Intel Core i9-12900KS:
For a long time, the Core i9-12900K reigned as the ultimate king of the best processors on the market, but now it faces competition from itself. The Intel Core i9-12900KS is a specially-binned and overclocked 12900K that pushes that envelope a little further. Although it isn't a lot better than the 12900K, it is better, making it the fastest CPU you can buy in 2022.
It has the same eight P-cores (performance) and eight E-cores (efficiency), as the 12900K, the same 24 threads and high clock speeds. The difference is that these high clock speeds are a little higher. It can do 5.5GHz on a couple of cores at a time, and 5.2GHz on all of them at once, giving it a slight edge on the 12900K in most games and applications, though that isn't always the case. That will make this the best chip for the next six months at least, and it will remain relevant for years to come.
However, despite being a fantastic desktop processor, it's not without its flaws. It is the fastest Intel CPU right now, but it's not the best value CPU. It's quite expensive in comparison to the Core i9-12900K, and even more so when compared with mid-range offerings. It also doesn't really deliver enough of a performance jump to truly justify the price hike and it has even higher TDP demands. Buy it if you care about the performance and not your budget, but if you're trying to remain price-conscious, the Core i9-12900KS may not be what you're looking for.
Intel Core i9-12900KS
The fastest Intel processor
Intel Core i7-11375H
The best mobile Intel processor
Pros
It's still the best Intel mobile processor
Offers smooth gaming and productivity
Powerful specs, but low power consumption
Cons
It will soon be dethroned by Intel Alder Lake
Why you should buy this: It's the most powerful mobile Intel chip, at least until 12th-gen mobile chips are easily available.
Who it's for: Mobile users that demand a little more power than a normal mobile CPU.
What we thought of the Intel Core i7-11375H:
Although a new Intel desktop processor can have some problems, the Tiger Lake mobile processors are excellent. For a great balance of performance and power, we recommend the i7-11375H. It comes with four cores and eight threads, a base clock of 3.3GHz, and a staggering boost clock of 5GHz, all while keeping power demands under 35 watts. The i7-11375H leads Intel's new Tiger Lake H35 processors, which target portable gaming laptops with 14-inch screens.
The processor shows up in laptops like MSI's Stealth 15M, but many manufacturers are still shipping notebooks with last-gen CPUs. Despite sporting similar specs, the i7-11375H passes even the top Tiger Lake chips with its extended power budget. That translates to some performance improvements in single-core performance. With the same underlying architecture, however, you should expect more of a performance benefit in multithreaded tasks.
It's hard to say anything definitive about a mobile CPU, though. The wrong build can make even the best processors look weak, and a decent configuration can make underpowered CPUs shine. The i7-11375H is undoubtedly the most powerful mobile Intel CPU available, but it's important to consult individual laptop reviews. The example mentioned above, MSI Stealth 15M, is an excellent gaming laptop that will let this CPU truly shine.
If you're looking for more raw power, Intel also offers the Core i9-11980HK in premium gaming laptops. It comes with eight cores and 16 threads and a turbo speed of 5GHz, so it's certainly faster than the i7-11375H. However, it mainly shows up in high-end gaming machines, so it's not for everyone.
Intel Core i7-11375H
The best mobile Intel processor
Intel Core i3-10100F
The best Intel processor under $100
Pros
Solid cost-to-performance ratio
Costs less than $100
Perfect for casual builds
Cons
It's two generations behind
No integrated graphics
Why you should buy this: It's a decent processor that fits neatly in the "under $100" category.
Who's it for: Less-demanding users on a budget who still want to stay close to the current generation.
What we thought of the Intel Core i3-10100F:
PC building on a budget may seem like a daunting task, so it's always great when you can stumble upon components that neatly fit an affordable build while still pulling their weight. The Intel Core i3-10100F, despite being part of Intel's 10th generation of processors, still belongs in that category. It's one of the best budget processors on the market, and despite oscillating around the $100 range, it has a lot to offer.
The Core i3-10100F comes with four cores and eight threads and offers a frequency of up to 4.30GHz in turbo mode, which is nothing to turn your nose up at. These kinds of specifications will carry you through your daily tasks, support productivity and entertainment, and even some light gaming if you're not too demanding. For resource-heavy tasks, such as video editing or CPU-intensive games, you may want to splurge on a better CPU, such as the Core i5-10400F, or a newer 12th generation model if you can afford it.
This processor is not very power-hungry, so you won't find yourself needing to upgrade your power supply in order to accommodate it. It will do just fine in entry-to-mid-level PC builds. One thing to keep in mind is that the Core i3-10100F doesn't feature integrated graphics, so be sure to pick up a discrete graphics card if you're buying this processor.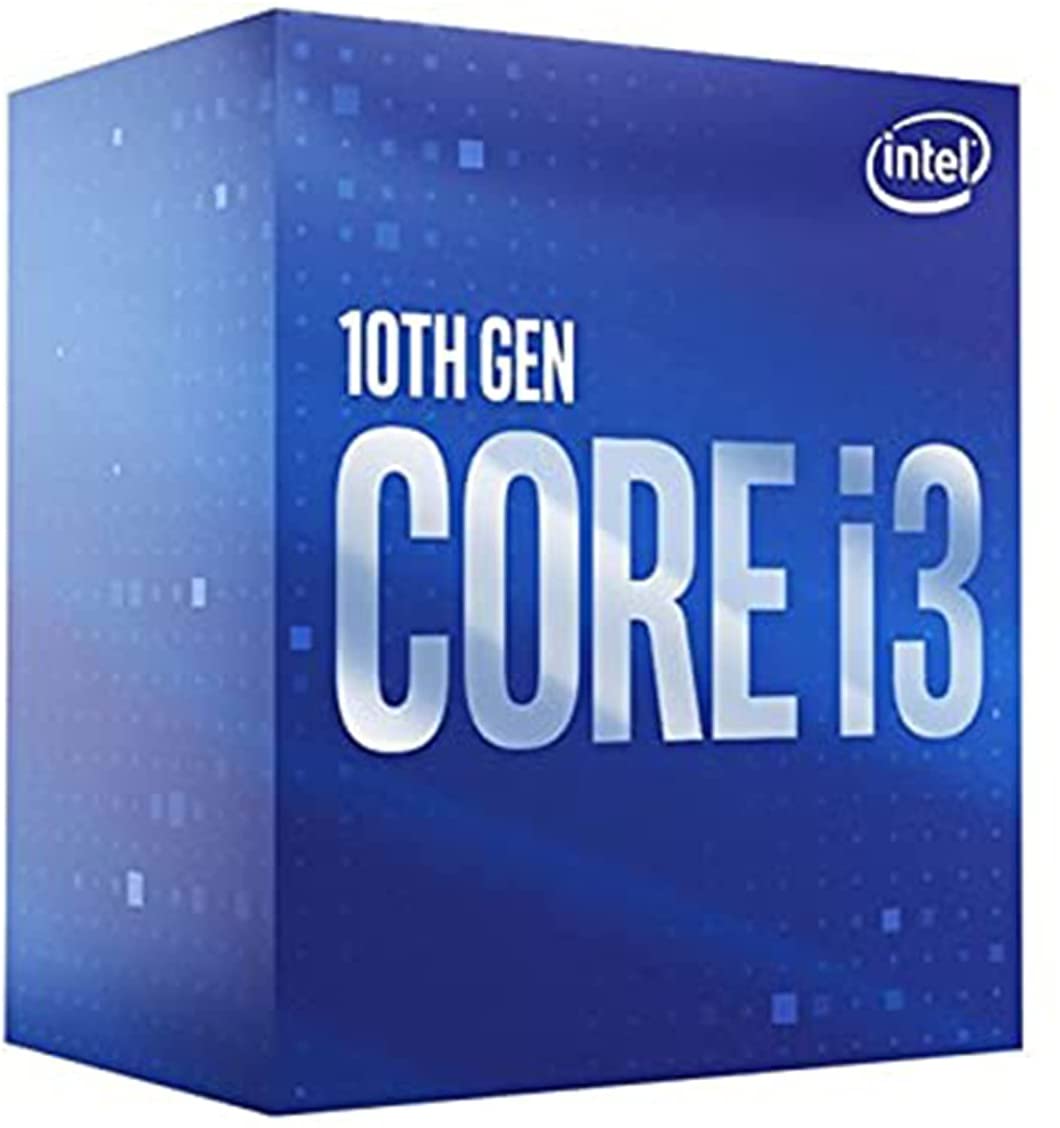 Intel Core i3-10100F
The best Intel processor under $100
Frequently Asked Questions
What's the difference between K and F Intel processors?
Intel uses multiple suffixes to indicate different features, but "K" and "F" are among the most common. "K" processors are unlocked, so you can overclock them with a compatible motherboard. "F" processors don't come with integrated graphics, so you'll need a dedicated graphics card. You may even find a "KF" processor, indicating that it's unlocked and requires discrete graphics.
You can usually find variants of Intel's leading i9, i7, and i5 processors with either or both suffixes. If you're planning on building a gaming computer, you can save a few dollars by purchasing the "F" variant of a processor. On the other side, "K" processors are slightly more expensive with their overclocking capabilities. If you want a full breakdown on Intel's naming scheme, make sure to read our CPU buying guide.
How good are AMD Ryzen processors compared to Intel?
Intel Core and AMD Ryzen both offer excellent processors at different price points and in different forms, so one brand isn't definitively better than the other. That said, if you're shopping for a desktop processor in 2022, AMD Ryzen currently falls behind Intel, but not by much. The newer AMD Ryzen 5000 processors pack a lot of cores and perform well, so they're still very capable CPUs, and you may be able to snag one of them cheaper than Intel's 12th-gen Alder Lake offerings.
In the mobile world, Intel used to dominate. Now, you can find machines with AMD Ryzen processors, too, and they perform great. That said, there is still a far greater number of machines that come with Intel processors, and they stack up well against the AMD competition.
In short, an Intel processor is generally better on desktop, and Intel and AMD are evenly matched on mobile, though Intel has more options available. Keep in mind that the power balance between Intel and AMD changes with each processor release, so although Intel is better right now, it may not always be that way.
How do you know which processor is best for your needs?
To find the best processor for your needs, you need to consider the applications you want to run. If you're into gaming, for example, a processor with strong single-core performance is a good choice because games usually stress only a handful of cores at a time. On the other hand, content creation applications like Adobe Premiere Pro and DaVinci Resolve can take advantage of a greater number of cores, so a processor with a lot of cores is better for them.
Those are good rules to follow. Games like a fast processor over one with a lot of cores, and content-creation apps like more cores over faster ones. Some processors, such as the Intel Core i9-12900K and AMD Ryzen 9 5900X, offer both. If you want a processor for browsing the internet and using basic apps, any processor with four or more cores from the last few years should work well.
How can you tell if a PC processor is any good?
The best way to tell if a PC processor is good is to look at individual benchmarks. Specs like core count and clock speed don't tell the full story — they only show what the processor is capable of within its own range of products. If you've settled on a certain brand or series, however, looking at core counts and clock speeds can show you where the processor sits in the range.
If you want to test your own processor, there are plenty of tools available. Cinebench is a great benchmarking tool that focuses solely on the processor, while PCMark 10 provides an overview of performance across a suite of day-to-day tasks.
Where can you find a full breakdown on Intel's naming scheme?
Intel's naming scheme can get a little confusing sometimes, but once you know your way around it, you'll be able to navigate every processor by heart without needing to check what it does.
Let's assume the processor you're trying to look up is called "Intel Core i9-12900KS." The first part, Intel Core, refers to the brand of the processor. Intel has several brands that are not Intel Core, such as the low-end Intel Pentium or Intel Celeron.
The second part is the brand modifier. This is important and refers to how powerful a particular CPU is within its generation. Starting with the budget i3, Intel also offers i5, i7, and i9. The i5 and i7 lines are typically mid-range to high-end, and the i9 is reserved for high-end processors.
Moving on to the numerical part of the name, the first two digits refer to the generation of the processor. As an example, Intel's 12th-generation processors, Alder Lake, all start with a "12." The final three digits refer to the specific model and also go up depending on how good a model you're dealing with.
The letter at the end refers to the type of processor. There are many variants, so check them out on Intel's website if you want a full list. The most common ones include:
K – Unlocked (overclockable)
F – No integrated graphics
S – Special edition
T – Low power, lower performance
Editors' Recommendations